What comes first, site or content? This is no 'chicken or egg' philosophical riddle. The answer is simple: content. A horse pulling an empty cart serves no purpose, and a well-designed website may look good but if it doesn't provide any useful information then it is just an empty vessel.
Content to Position the Braemar Brand
At MTM, content (the information that needs to be communicated) and its desired audience are where we start. For Braemer, a leading global provider of shipping, marine, energy, offshore and insurance services, it was about positioning the brand, explaining the broad offer across the group and providing an opportunity for the user to make contact with a relevant individual.
Understanding Braemar's Audience
The site needed to speak to a varied audience, from investors to the media, and from employees to current and potential customers. We crafted a brand platform that was modern, visually appealing and universally accessible in order to convey Braemar as a trusted global brand. Equally, when targeting specific stakeholder groups, the site also communicates detailed information at an individual level, allowing each user to feel valued as they are directed to the pages most relevant to their needs.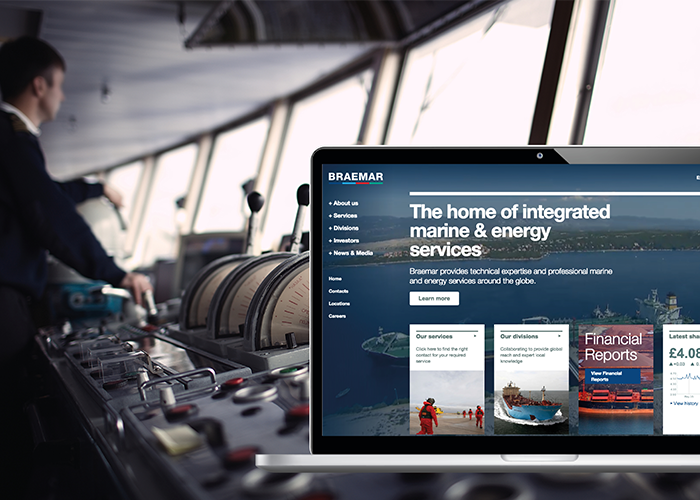 Unifying Braemar Businesses
Although referencing seven distinct businesses within the group, each with its own brand identity, the site needed to appear unified and coherent, and reflect each organisation's position. Each business required its own profile, an explanation of its offer and its role within the group. MTM has created a site that allows each business to maintain this independence without a sense of rupture: each business may have a different role but they are all playing for the same team.
A Seamless User Journey
Every website should supply answers and the nature of Braemar business means that its customers are often dealing with urgent and complex issues, so answers need to be provided with urgency. The website, therefore, has to direct visitors quickly and easily to either the required information or a relevant contact. Their journey has to be intuitive, fast and without error; the interface we designed is clear, concise and fail-safe, directing users to their desired destination without confusion.
Braemar's reputation as a knowledge provider is further fortified by a site that also establishes itself as a vital tool, filled with valuable information for Braemar's audience. A filterable 'service finder' demonstrates the group's breadth and enables users to quickly locate required information and the relevant business. A company-wide contact and separate office directory provide other routes to reaching the user's goal, with information that can be filtered according to business and location.
Room for Growth
For an organisation with its eye on the horizon, the website needs to be able to grow alongside the company. MTM has incorporated capacity for growth into the design: its flexible layout means the site can evolve over time without issue.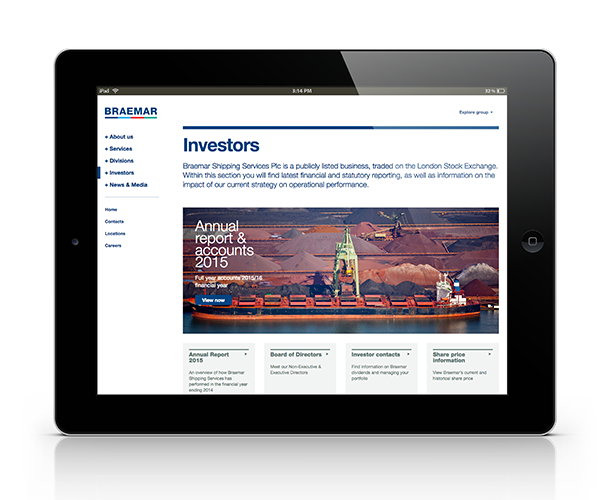 Final Thoughts
"Modern, streamlined, fully responsive and consistent over different platforms, the new site does justice to Braemar's position as a key industry contender. But it is not just an enjoyable digital experience; it is a resource, providing answers to questions no matter who is doing the asking." - Richard Broughton, MTM Director.

Since the launch of Braemar.com, six of the seven Braemar businesses have chosen to work with MTM on updating their websites. Starting with Cory Brothers, we were able to update and reuse HTML templates developed for Braemar.com for the other sites, massively reducing the cost to each business and creating a sense of brand consistency across all the Braemar businesses, whilst still respecting each business' own look and feel. The full list of MTM-developed Braemar business sites comprises: