UKSA
Promoting the importance of outdoor education PR & Content
The Brief
Raising awareness
UKSA wanted to raise awareness of the importance of outdoor education and its outcomes whilst harnessing Outdoor Classroom Day (4 November 2021).

In a normal year, UKSA is proud to welcome over 8,000 schoolchildren for water-based, residential experiences that are both life-affirming and enhancing. It also runs a fully-funded, half-day on the water for all Island Year 6 pupils, which supports 1,500 beneficiaries annually. Through this activity, it has first-hand evidence that outdoor centres like UKSA help young peoples' mental health and confidence, build resilience, and instil life skills – all of which are essential attributes for young people. Additionally, the healing power of water and coastal environments have been shown to improve our health, body and mind, which is why it is more essential than ever for young people – especially those from inner cities – to have on-water, outdoor and out-of-classroom experiences.

The charity wanted to reach target audiences of regional and national audiences both generally and with education providers to promote its offering.

The Challenge
Creating a story
We wanted to promote the benefits of outdoor learning to mental health, which has been particularly pertinent post-pandemic, and to make people aware that the UKSA offers funded places so there are no barriers to youngsters experiencing outdoor learning and taking up its educational pathways.

The three-month campaign began with undertaking research to find out more about the outdoor education sector. We contacted the Institute of Outdoor Learning to discover more about the impact of outdoor learning on young people to give wider context to our campaign.

The Social Mobility Commission's 2020 report 'An Unequal Playing Field: Extra-Curricular Activities, Soft Skills and Social Mobility' clearly demonstrates that participation in activities beyond the classroom has great added value in a child's development. Not having access to or not being able to participate in these activities is a significant restraint on social mobility. This guided us to highlight that UKSA's programmes offer a positive and enriching experience for young people – not only as positive educational outcomes, but also as they offer the possibility of developing a wider set of skills beyond the qualifications obtained from school.

The Solution
Targeting varied audiences
Our strategy followed a multi-narrative approach to target different audiences and highlight the different pathways. We developed a communications plan that included feature placement, press visits, interviews and press announcements.
United Learning's Beacon View Primary School Case Study
Crucially timed to coincide with Outdoor Classroom Day on 4 November 2021, one sub-campaign followed a class of local Year 6 children to demonstrate the benefits of outdoor learning to their self-esteem and mental wellbeing. We invited the press to attend this session and also interviewed the teachers to find out how the session impacted the pupils in the class. We then captured this for use on UKSA's own channels, including YouTube.
HeadStrong: Better Mental Health for All
Another sub-campaign emphasised the concerns around the rise in mental health issues, and highlighted case studies of young people whose mental health was improved as a result of participating in programmes at UKSA. We worked with the Daily Mirror on its HeadStrong: Better Mental Health for All campaign and placed a case study of 15-year-old UKSA student, Logan, who took part in the charity's Sea.Change Foundation Programme for 14–17 year olds, a five-day course during the school holidays.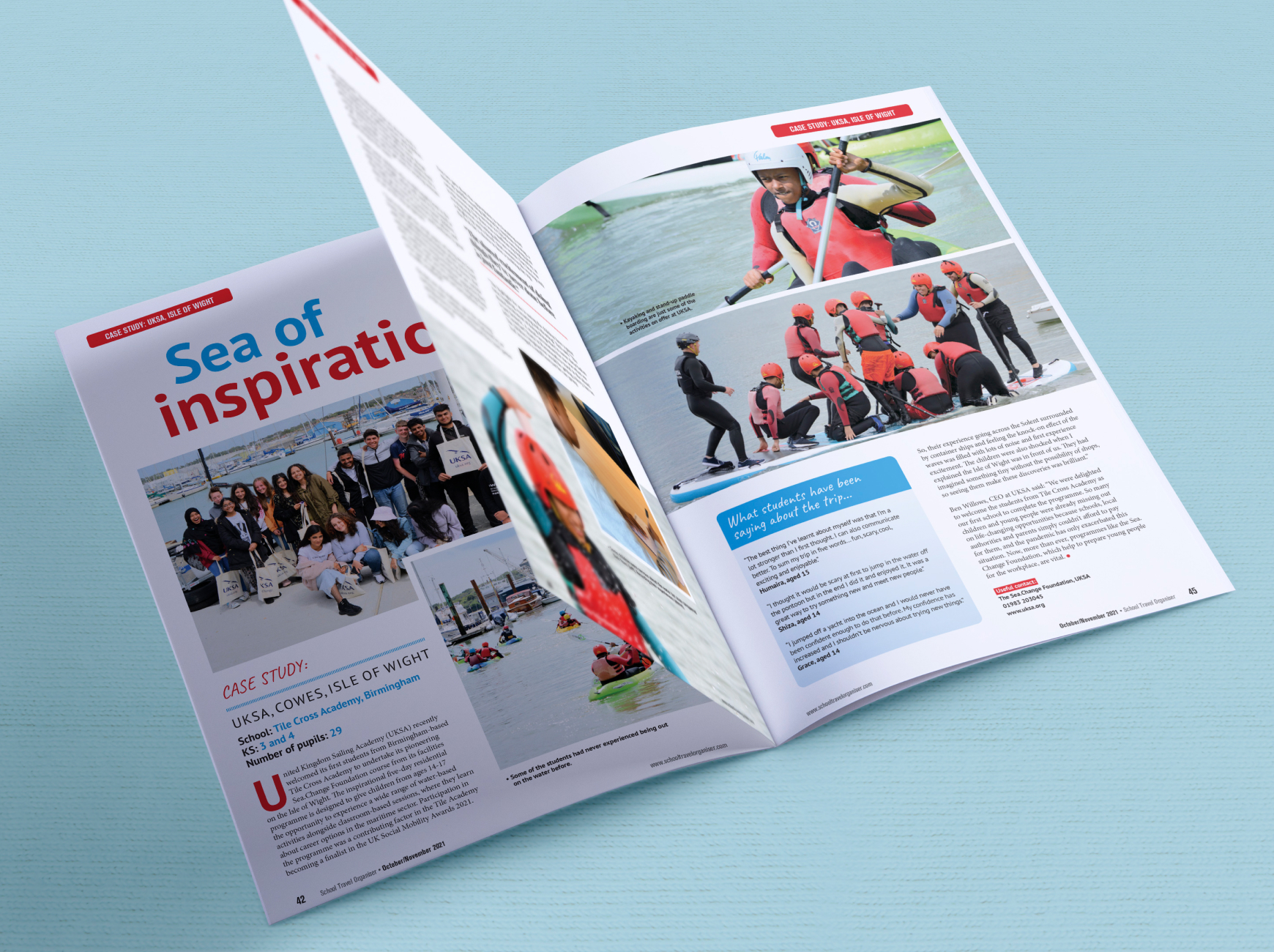 Profiling UKSA's dedicated welfare officer
A key part of our campaign was to profile UKSA's in-house dedicated welfare officer, Kim Fry. Kim joined the UKSA team in 2019 and quickly introduced biweekly wellness sessions, and developed signposting literature for mental health support and a pocket wellness guide. Along with face-to-face sessions with staff and students onsite, support has also been offered through our text service and via email, which has proved particularly successful in providing continuation of support when students have been on a sea phase. We pitched and placed several interviews with Kim to highlight the support provided at UKSA as a point of difference from other outdoor education providers.

Bringing it all together
Planning for success
We developed a campaign calendar, which harnessed Outdoor Classroom Day and other campaign 'moments' such as interviews, school visits and press announcements, to ensure a steady drumbeat of communication over the three-month campaign.

After getting a mixture of case studies to promote from both individual (Logan) and education providers, we worked to place these, as well as highlighting statistics from UKSA; these were all released to the media over the course of the campaign. A focus was put on regional media for Outdoor Classroom Day to ensure maximum coverage from outlets which could access UKSA; this included BBC South attending a school's visit to UKSA, and placement of a UKSA spokesperson on BBC Radio Solent to talk about the day itself and the importance of outdoor learning.

We also worked with UKSA's internal social media team to highlight the overall campaign coverage, using the hashtag #OutdoorEducation.

Testimonial
"This campaign has been intrinsic in highlighting the long-term positive impact we have on young people."

Ben Willows, CEO of UKSA