They wanted a site that spoke to them at every stage of their career and offered easy access to critical information and unique insights. They wanted a site built for mobile, that worked in the middle of the ocean and still looked great on any device. They wanted a union website built for 2018.
Launching the new Nautilusint.org – a brighter digital future for 22,000 members worldwide.
Nautilus is the world's largest Merchant Navy union. The voice of seafarers around the world, it works tirelessly to protect its members' interests and campaign on their behalf.

Recognising that delivering on these charges required a strong, digitally focused strategy, Nautilus invited the MTM Agency to design and develop a new website that better reflected the evolving nature of how its members interact with the union and how they choose to consume its content.

The MTM Agency's team of digital designers, strategists and UX (user experience) experts worked hand-in-hand with Nautilus' leadership team and key stakeholders to understand the union's position in the marketplace, the challenges it faces and its many opportunities for growth.
Research
During the 'discovery and exploration' project phases we interviewed internal teams, listened to experienced seafarers and heard from newly graduated sea cadets to truly understand what each needed from the new Nautilus website. We also ran an online survey with users of the existing Nautilusint.org website, revealing a number of significant insights.
Our research, supported by Nautilus's own findings, concluded that external stakeholders wanted the site to be clearer, with simplified journeys, increased personalisation and fast access to key information – even for those on low bandwidth connections at sea. We also recognised the importance of creating an environment that would benefit the union and its day-to-day operations, with true integration of Nautilus's CRM, Microsoft Dynamics, to make managing members requirements much quicker and easier.

With these requirements in hand, we collectively agreed the preferred CMS (Episerver) from a number of open-source and licence-based options and identified our recommended technical approach to the project – utilising techniques used by the latest progressive web apps, such as Twitter Lite and Uber. With a nod to the UK Government's award-winning simplified design system, we also leveraged the latest 'atomic design' techniques and optimised CSS to create a site that would perform in low-bandwidth conditions, whilst still delivering a rich desktop experience.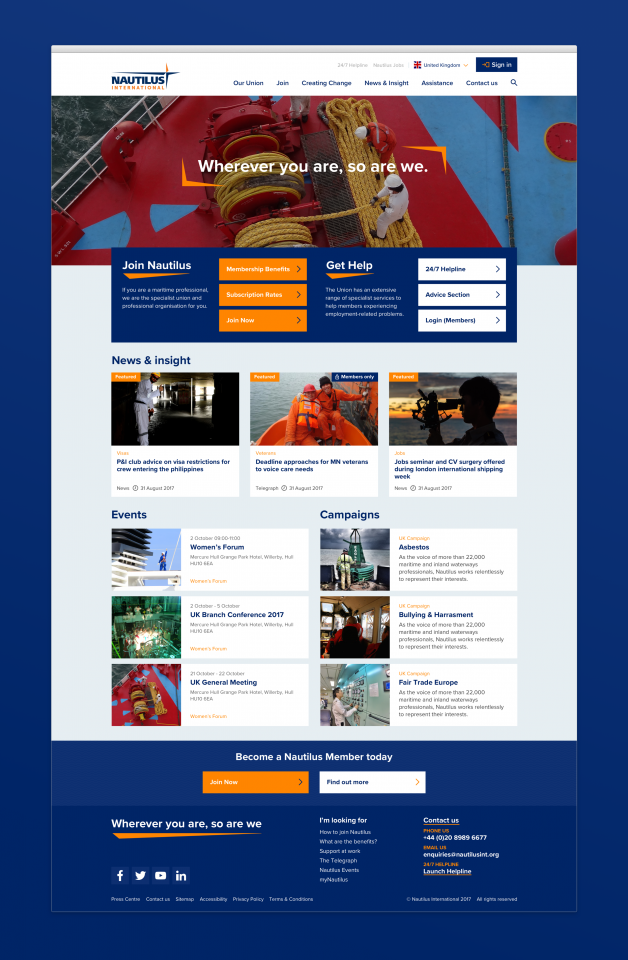 Features and Benefits
In addition to its dramatically improved UX and performance, key features of the new, multi-lingual/multi-regional site include a 'best-in-class' membership engine, fully integrated with Nautilus' CRM and offering optimised joining forms and account management areas. The new site also features totally overhauled 'My Nautilus', 'Telegraph' magazine and media sections, with members benefitting from new levels of content personalisation, based on defined user groups, to maximise member engagement and increase revisit frequency.

Of almost equal importance was the need to deliver a highly-intuitive back-end editing experience, one that empowered the Nautilus team and enabled them to quickly and easily build perfectly designed pages from scratch, or simply add new content in seconds. We're delighted with the result and although we can't easily show it to you, it is already receiving praise from those responsible for driving the site's content requirements long term.

Gordon Hawes, MTM Agency director, commented: "Delivered on time and on budget, this is a perfect example of the type of complex, audience-centric project where the MTM Agency can really excel. Delivering on Nautilus' objectives required a close relationship to be developed between Nautilus' internal teams and us, as well as a strong understanding of the current maritime industry, the people within it and what motivates them – all of which we were able to demonstrate from day one. The result of that investment is a site that genuinely speaks to its audience and helps to build a closer, stronger bond between the union and its members.

"In the coming weeks we will be creating a full case study, highlighting the impact the new site is having on Nautilus and its visitors but in the meantime, we invite you to take a look and see the site for yourself."

Nautilusint.org