For the fifth year in a row, Episerver has been named as a leader for digital commerce, sitting amongst 18 of the world's most important technology vendors, including Oracle, Adobe, Sitecore, and Kentico.
Positioned in 3rd place for Completeness of Vision and 4th for Ability to Execute, it was one of the 4 key vendors that were clearly ahead of the rest as the Episerver features continue to close the gap on it's nearest rivals, Sitecore and Adobe.
Highlights from the Episerver Gartner report were that Episerver products' cloud capability and personalisation were two of the key areas that Gartner were impressed by along with:
Strong messaging: Episerver offers a broad product portfolio across Episerver content management systems, digital marketing, and digital commerce, with packaging and bundling well-aligned with typical customer use cases and maturity levels. Episerver's business-savvy packaging stands in favorable contrast to vendors whose offerings are technology-driven and oftentimes very confusing.
Strong IT and business usability: Episerver is well-regarded for usability by both IT and business teams. Advanced experience management capabilities, such as event triggering, AI-based personalisation, and customer journey analytics are incorporated into typical WCM processes and roles, rather than requiring specialized, dedicated processes and expertise.
Strong pricing strategy: Episerver's simple, transparent, predictable subscription pricing readily aligns with business metrics (for example, page views and SKUs). The pricing strategy appeals to large enterprises, as well as growing midmarket organisations.'
Interestingly, while Oracle is still a leader it is felt the solution now might be aging, the multitude of solutions offered as they continue to buy up additional technologies to bolster their offering can get confusing. IBM drops out of the report altogether this year, despite featuring highly in recent years.
---
"Episerver offers a broad product portfolio for content management, digital marketing, and digital commerce, with packaging and bundling that is well-aligned with typical customer use cases and maturity levels." – Gartner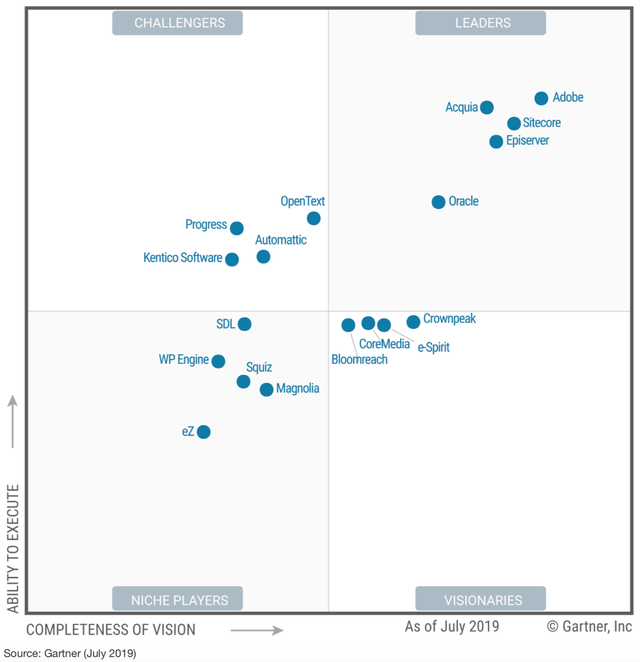 ---

As an Episerver agency, we are delighted that our confidence in Episerver and its product suite echoed by the industry. Some of our key clients have carefully chosen to use this solution to support their marketing objectives and as an agency, we have invested in Episerver Solutions Architects and Project Managers, enabling us with skills required to support Episerver needs from complex builds through to code cleanups.
Do you need Episerver help? Struggling to prove the value from your Episerver license? Or maybe you require some Episerver campaign management or Episerver campaign support? The MTM Agency are an Episerver agency with Silver Episerver partner status. Having handled large scale deployments and migrations, looking after Episerver web content management for INEOS and Inovyn, Episerver DXC for SungardAS and Nautilus. Our Episerver certified developers are skilled in complex situations, our aim always being to mitigate business risk and keep our clients informed every single step of the way.
We will take the time to ensure we understand KPIs and objectives, current systems and processes and the skill set of the in-house skill sets before we kick-off to ensure we have a fully complete end to end process right for your business. Unusual for agencies, we have held many of our client relationships or over 10 years. Maybe that's why clients trust us, time and time again.
Read more about our case studies.
As proud Silver Partners of Episerver, we are also exhibiting at the series of Episerver events. Catch us at the Episerver Ascend date in London on 7th November.
We are offering a free Episerver site review with our developers and marketing experts on the stand. Please visit us to discuss how we can meet your business challenges.