As pioneering campaigns and viral events have already demonstrated, there is a vast breadth of opportunity for brands on the newest platform on the block, if you follow the rules.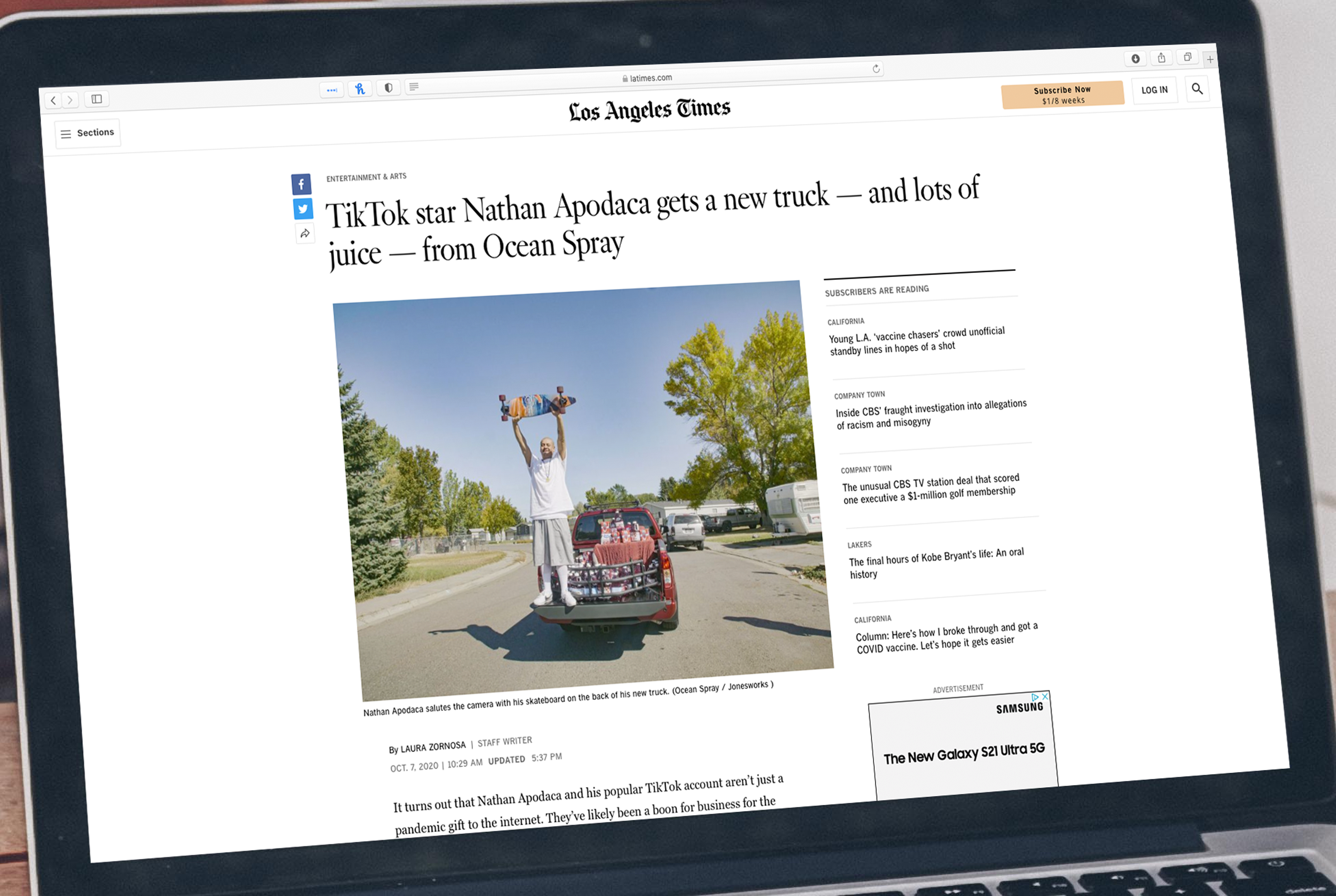 Figure 1: LA Times article on Apodaca being presented with the Ocean Spray pickup truck
What would you say if I mentioned the name Nathan Apodaca? How about the 'Ocean Spray guy'? Thanks to TikTok, even if you don't know his name, you're probably aware of what happened when Apodaca's truck broke down on the side of the road back in September. Facing a long journey home, the Idaho resident hopped on his skateboard and filmed himself cruising down the sidewalk, miming Fleetwood Mac's Dreams and swigging from a family-sized bottle of Ocean Spray Cran-Raspberry as he went.
Apodaca uploaded the video to TikTok, where his display of serenity in the face of adversity and authentic, positive attitude resulted in the post garnering more than a billion views. Its popularity grew even further when fans began reposting it to other platforms, and TikTok's users – or 'Creators' as they are called – responded with their own remakes and tributes. Collectively, they helped elevate this simple video into a viral phenomenon, resonating across pop culture and multiple generations of audiences.

News of the video even reached Fleetwood Mac's founder, Mick Fleetwood, who proceeded to join TikTok and post his own rendition, before having a touching interaction with Apodaca in the comments section (The pair agreed to meet up when it was safe to do so, for those that are interested). 'Dreams' also received a 374% boost in sales, sending it back onto the Billboard Hot 100 after 43 years.

Ageing music legends weren't the only ones to benefit commercially. As the video's popularity grew, Ocean Spray saw shelves across America stripped of its juice drinks. It leaned into the moment and aligned its response perfectly. Unannounced, it presented Apodaca with a brand-new pickup truck, loaded with enough juice to send a dentist into conniptions.

Ocean Spray was thrust into the centre of an organic cultural moment and responded without any of the professional polish you would typically expect from an FMCG brand's marketing. Instead, it posted a poorly lit, hand-recorded clip that demonstrated authentic positivity, rewarded its unlikely ambassador, and kept the news cycle going, adding a few more numbers to the brand's viral bingo card.

I use this example to demonstrate TikTok's secret superpower; fostering a community where positivity is rewarded with views and likes. That may sound like a reject from a messaging workshop, but as a platform, and for the time being at least, it appears to be living by it. It really is a social network where authenticity, creativity and inclusion reign. Everyone is free to be themselves and where comedy skits and lip-syncing to chart hits are presented in tongue in cheek fashion that makes it feel like everyone is in on the joke. I don't care how old you are; it's hard not to enjoy ten minutes scrolling through the variety of content on offer in bite-sized installments.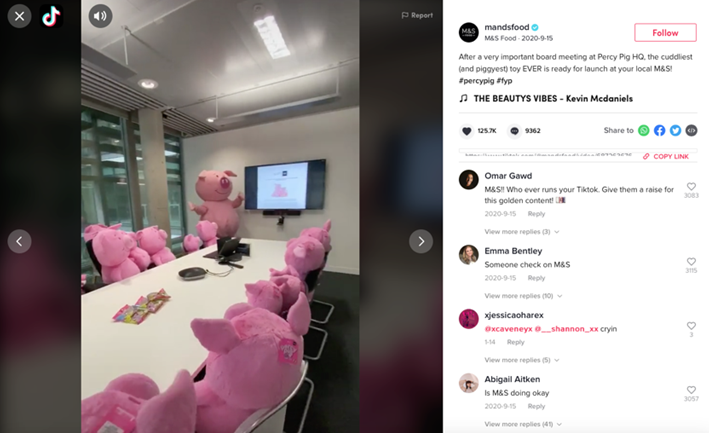 Figure 2: MandSFood's TikTok account got off to a flying start, thanks to UK cultural icon, Percy Pig.

But what does that mean for brands?  

Ocean Spray aside, brands don't need to rely on a viral moment to build an engaged audience on TikTok. There are several already proven strategies, but all rely on accepting the rules of the game. You wouldn't walk onto the pitch at Lords and expect to play tennis. Likewise, you can't join TikTok and expect to copy your Instagram strategy. The platforms are fundamentally different. The audiences, and their expectations, are fundamentally different, and your approach needs to be too.
The technical mechanics of TikTok are similar to every other social network, however. It has opportunities to follow your favourite accounts, 'like' and comment on posts and search using hashtags. Where it diverges is in its content type and the nature of that content. Instagram was initially focused on lifestyle imagery (although video is now the more popular medium), Twitter was and remains committed to micro-blogging, LinkedIn is a professional networking platform. TikTok, on the other hand, is only about short videos, no longer than 60 seconds and often set to music.

Marks and Spencer recently discovered the recipe to the TikTok secret formula after launching its new M&S Food channel. Its initial posts were fairly standard, professional little videos to promote specific products, receiving decent but not noteworthy views and engagement. However, it was when some bright spark decided to record a Percy Pig board meeting – complete with a life-sized Percy and a conference table of plush toys – that it connected with TikTok's Creators and transcended the platform, reported on by the Daily Star, Daily Express and Daily Mail. The funny, silly post hit the TikTok sweet spot and garnered 10x the views and engagement of previous videos, attracting over 125,000 likes, over 9,000 comments. M&S learnt quickly that this is a space for creative expression and entertainment, not promotion.

That fun-centric formula has resonated with audiences worldwide. TikTok reported 800 million active monthly users in 2020, a figure expected to reach one billion in Q1, and a staggering achievement in little more than three years. According to App Annie, it was the most downloaded app of 2020, and its popularity has already spread beyond its original generation Z core demographic. Data from Statista shows that half of users are now aged over 25.

A perception of TikTok being only for young people has meant many brands have overlooked the platform, up to this point. However, the same argument was previously raised in regard to both Facebook and Instagram, and if we've learnt anything, it's that today's kid-centric platform is tomorrow's mass-market opportunity. All of the most popular social networks started with an offer that predominantly appealed to a younger audience. When it first emerged, Instagram was used primarily by teens and young adults. Now, it cuts across all age groups, as well as 25 million businesses. The same will undoubtedly happen with TikTok.

Driving engagement organically

Unlike other platforms – where it feels like paid promotion is the only way to increase visibility – TikTok excels at generating brand awareness and engagement organically. Brands that follow the formula and offer emotive, entertaining or informative ideas and content can see almost immediate results.
Turn to the community
A fundamental difference of TikTok, compared to other social platforms, are the users who post the volumes of inspiring, entertaining and creative content day-in and day-out. This community of 'Creators' represents one of TikTok's most significant selling points for brands, providing an opportunity to work with influencers who have built relevant, engaged communities of their own. TikTok's unique video format empowers Creators to offer authentic self-expression, which helps create a trust-based bond between them and their audiences. TikTok has also set up a 'Creator Marketplace', giving brands an easy way to find the right influencer for their market and audience by evaluating relevant stats and demographics.

The key to successfully working directly with Creators is understanding the relationship they have with their audiences. Whereas on Instagram, a brand may send a product for an influencer to feature within an image post, on TikTok, that approach won't work. Creators and the wider community have little time for basic product placement. This is the generation that has grown up with celebrities like Kim Kardashian and the entire cast of Made in Essex flogging just about anything if the price is right, and they are wise to it. It's not that they are 'anti-brand', quite the opposite, they simply demand more for their attention.

The answer is to be as creative as possible, try something new and different, and just have some fun with it. Marketers who grasp this quickly develop a style and personality that fits their brand, and the platform, building an authentic connection with a global audience that is overloaded with advertising but has a voracious appetite for bite-size content.

Back in April, Pringles launched the hashtag challenge #PlayWithPringles on TikTok, asking fans to get creative with its famous cylinder tube and curvy potato chip, through whatever form of expression they chose. Pringles worked with popular TikTok Creators in each market to lead the creative inspiration and to use their influence to amplify Pringle's exposure at the outset of the campaign.

The #PlayWithPringles concept was simple and easy to get involved, whilst also offering Creators the chance to put an individual spin on their responses. This combination made for a powerful community engagement tool. Creators responded Pringles' and the influencers' content and posted their own clips using the can in all manner of imaginative ways. Highlighting the genius of the idea, whatever the creative approach the Creators chose, the smiling face of Mr Pringle was front and centre every time. The campaign generated more than a billion views, 13 per cent engagement across all markets, and resulted in almost 350k user-generated videos uploaded onto the platform.
Don't make ads, make TikToks

We've spoken a lot about all the organic opportunities available within TikTok, but in June 2020 it launched a suite of pioneering ad formats. From targeting, in-app ad creation, insight reports, and ad management tools, TikTok Ads offer a powerful yet easy-to-use platform to help brands reach millions of users. Whether you're dipping your toes in the water or ready to run a global campaign, TikTok Ads provides a number of unique options to help you achieve your goals.

To this end, TikTok has developed six offers designed to complement and amplify content in a different way, allowing brands to experiment and develop their communication across the TikTok ecosystem. 

Top View: This is the first video a user sees when opening the app, before they start scrolling down their feed. For up to 60 seconds, brands can deliver whatever expression of creativity they can imagine. Global consumer brands like Apple and Samsung are using this approach already, with excellent results.

Hashtag Challenge: Hashtag Challenges are already a TikTok staple, representing the platform's most popular ad format. It encourages engagement and user-generated content and offers an insight into the brand's personality. From a practical perspective, it involves creating a video using the sponsored hashtag and encouraging users to share content under the same hashtag. Content is compiled on a hashtag challenge page and is proven to be an effective way to build a community and increase engagement rates.

Hashtag Challenge Plus: As an extension of the above, Plus allows brands to integrate branded effects into their Hashtag Challenge to generate more brand-related awareness, conversations and engagement.

In-Feed Video: This is exactly as it sounds and is similar to ads you would see on Facebook. It allows brands to display videos within the user's personalised 'For You' feed, which means they appear alongside and are indistinguishable from user-generated content, except for the brand name and description, or call to action to click through to the website.

Brands can create these ads directly within the TikTok Ads platform, with options for targeting based on a wide variety of demographics and metrics, including more than 500 industry categories. Feed ads can also target custom and lookalike audiences, and be integrated with your conversion goals, including a CTA to download an app or visit a landing page.  

Branded Effect:  This format is most similar to Snapchat's filters, enabling brands to create and offer filters, stickers or augmented reality objects so that users can add them to their videos. Another example is Gamified Branded Effects, which allows users to use their facial expressions and body movements to interact with branded elements within their own environment.

Business Privilege: For the big-budget players (think Coca Cola or P&G), TikTok has launched Business Privilege. Similar in some ways to Twitter's blue tick, it means a brand's account can be verified with a blue badge. This service also allows brands to collate their branded content, whilst also customising their page with purchase links and the ability to pin videos to the top of the page. Additionally, brands with Business Privilege get better analytics and can analyse their followers and keep track of content performance at a data-management level.

Follow the evolution

TikTok is still in its infancy, and, as with all similar platforms, its core offer and related brand opportunities are still evolving. However, its positive and affirming approach to content, combined with its existing commercial opportunities, means it is already offering an effective tool to deliver on your brand awareness and engagement objectives, capable of delivering CTRs and interaction levels that you could only dream of on Facebook or Instagram.

It's also important to remember that its user base is continuously growing, with demographics moving in a positive direction for most brands. It's opening up more markets across Europe, and it's creating the tools brands need to leverage the platform effectively. When it comes to commercial opportunities, it's safe to say there is plenty more to come. TikTok is calling the shots, and it likely will be for some time, so before you jump in, take the time to understand the platform and how it really works, live by what you learn, and you'll see the impact it can have.