We are extremely pleased to announce that the Southampton HydroTeam, supported by MTM, won the prize for best communication!
Every year ship-engineering students from universities across the world compete against each other in the HydroContest held in Lausanne, Switzerland. The competition involves teams designing, building and racing energy efficient electrically powered boats in the famous Lake Geneva, with the aim to build the fastest, most efficient and enduring prototype which can win prizes in different categories. The HydroContest gives budding engineers the chance to put theoretical knowledge from their degrees into practice as well as the opportunity to promote themselves within the industry. With each team receiving a limited grant they rely on partnerships with local businesses to back the project and make it possible.

The Southampton HydroTeam approached MTM in April 2016, looking for support in developing a competitive communication plan, which represented one of the four key categories in which the teams were judged. The team were keen to bolster their marketing strategy to help promote the event and HydroTeam's message – innovation and increased public awareness of maritime challenges. MTM supported the team with a range of digital and print materials to help attract new sponsors and inform other important stakeholder groups, including a new website, communication tools, event banners and business cards.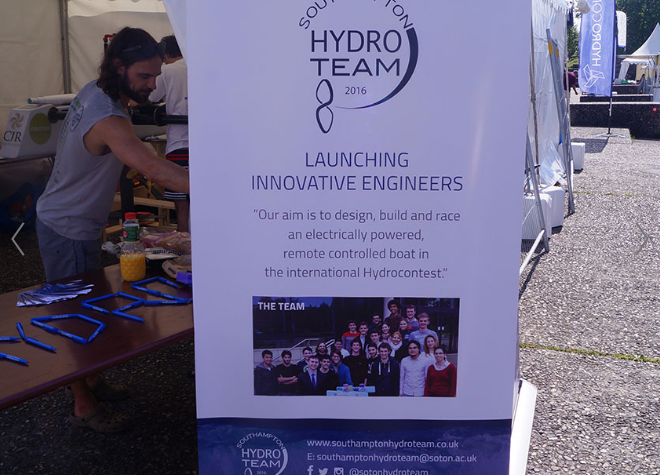 To kick-start the new marketing campaign a member of the HydroTeam took on a weeklong internship at MTM to establish the brief and get the website underway. During this time MTM created and prepared the website for the HydroTeam intern to develop further and populate with content. With the guidance of MTM in the studio the student was able to get to grips with the website content management system and finalise the design and content that would most effectively deliver the HydroTeam messages.

The end result was a bespoke website that acted as a professional platform to attract new sponsors and improve the team's internal and external communications. The new website which is straightforward to update and reuse, is an ideal long-term solution for the HydroTeam which can be handed over to future HydroTeam generations. Additionally alongside the website's design, a strong brand identity was created which was then extrapolated for additional marketing materials.
Visit the Southampton Hydro Team Website
As the HydroTeam were to attend many outreach events and fairs before the contest they additionally required some print materials that would clearly communicate the HydroTeam's involvement in the contest. The team asked for the agency to design and print business cards to be handed out at these events and additionally for some creative input for leaflets and event banners, which were then artworked professionally by MTM. With MTM's experience in print design the agency was able to advise on best practice for design and content so that the marketing tools would make the maximum impact. This was awarded with the communication prize.

"We would like to thank MTM for their brilliant help in creating a communication plan that enabled us to win the communication prize. The website and design work on the banners and leaflets far surpassed the previous years and we are extremely grateful that MTM donated their time and knowledge to help with the HydroTeam's cause." - Harry Jukes, Southampton HydroTeam