Airbus Defence and Space. These words conjure up images of interstellar exploration, jet-powered rockets, secret intelligence and stealth technology. All things that are undoubtedly a part of Airbus' illustrious heritage. And, with the Defence and Space division's Geo-Intelligence program, the connection between Airbus and life above earth is stronger than ever.
Airbus Defence and Space's Geo-Intelligence product line uses a constellation of advanced satellites to supply customised images and data relating to terrestrial activity all over the world for a number of industries.
MTM's mission? To position the brand, consolidate its identity and drive brand awareness to new heights within the oil, gas and mining sectors. When Airbus Defence and Space approached us, they knew that their audience had been left confused by previous mergers of former divisions and a number of name changes. They wanted to explain the full extent of Airbus Defence and Space's intelligence capabilities, its experience in the oil and gas industry, and its heritage. Our brief included a desire to build trust and fortify the relationship between the company, its clients and supporting partners; and also to create new opportunities for growth.
Through a fully integrated, co-ordinated campaign that includes print and digital media channels, events and exhibitions, conference graphics, presentation templates and business literature, we created the opportunity for Airbus to be seen and heard in the right places.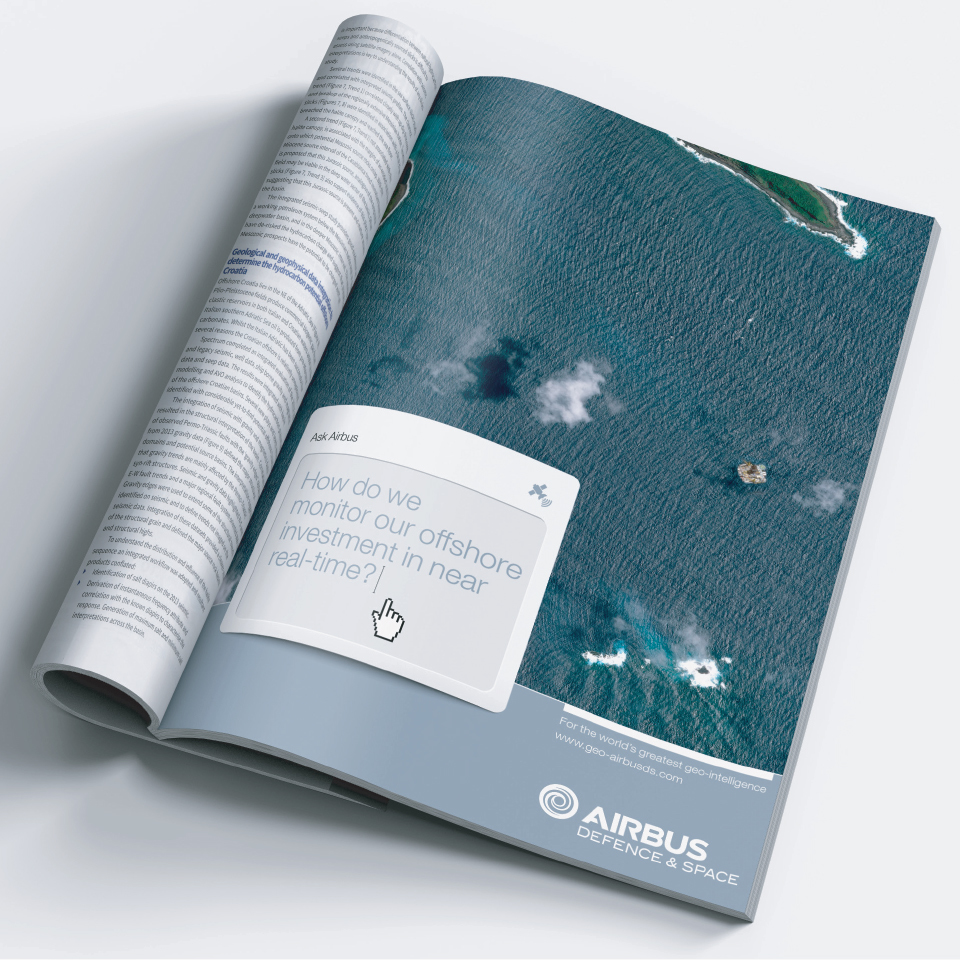 Ask Airbus
Our creative campaign centres on a simple but compelling message: Ask Airbus. Visually arresting, the campaign powerfully and unambiguously illustrates the message and its objective. If you have a requirement, just ask. With a simple dialogue box and the possibility to insert questions relating to any aspect of business, USP or product line, the idea is obvious and owes more than a little to Google. Airbus Geo-Intelligence is built on a wealth of experience and professional knowledge –all just a click or phone call away. This impression of immediacy provides extra fuel to the perception of action and energy at the heart of the company. And, being flexible, the concept allows a broad range of applications. Indeed, the brochures continue the theme with huge vistas and landscapes that let the image take precedence. Because, ultimately, that's what Airbus Geo-Intelligence is about. Visuals.
Thought Leadership
Our PR strategy involved conveying the full breadth of Airbus products and value-added services, whilst positioning the business and individual members of the intelligence team across all PR activity. For example, with our experience in copy content, copy-editing and magazine production, we helped Airbus deliver 'Imagine GEO', a market-specific digital and print magazine that articulates the brand messages and explains the benefits of particular products or applications. From technical diagrams to interviews with industry professionals, it inspires conversation around Airbus Defence and Space projects, creating a dialogue that establishes trust between readers and the company. While its satellites might be far, far away, the company itself seems not so distant.
However, the lion's share of PR activity has been focused on reaching those with little or no awareness of Airbus Defence and Space and its activity within the oil, gas and mining industries. To rectify this we worked with Airbus' technical team to create a number of unique synopses that were then pitched to key print and digital media outlets around the globe. Magazines and news outlets were categorised and ranked against a set of agreed parameters to maximise the PR's impact and ensure activity was focused on the most important titles. This process was assisted by MTM's previous experience in the oil and gas industry, and the well-established relationships between the agency and trade media editorial teams.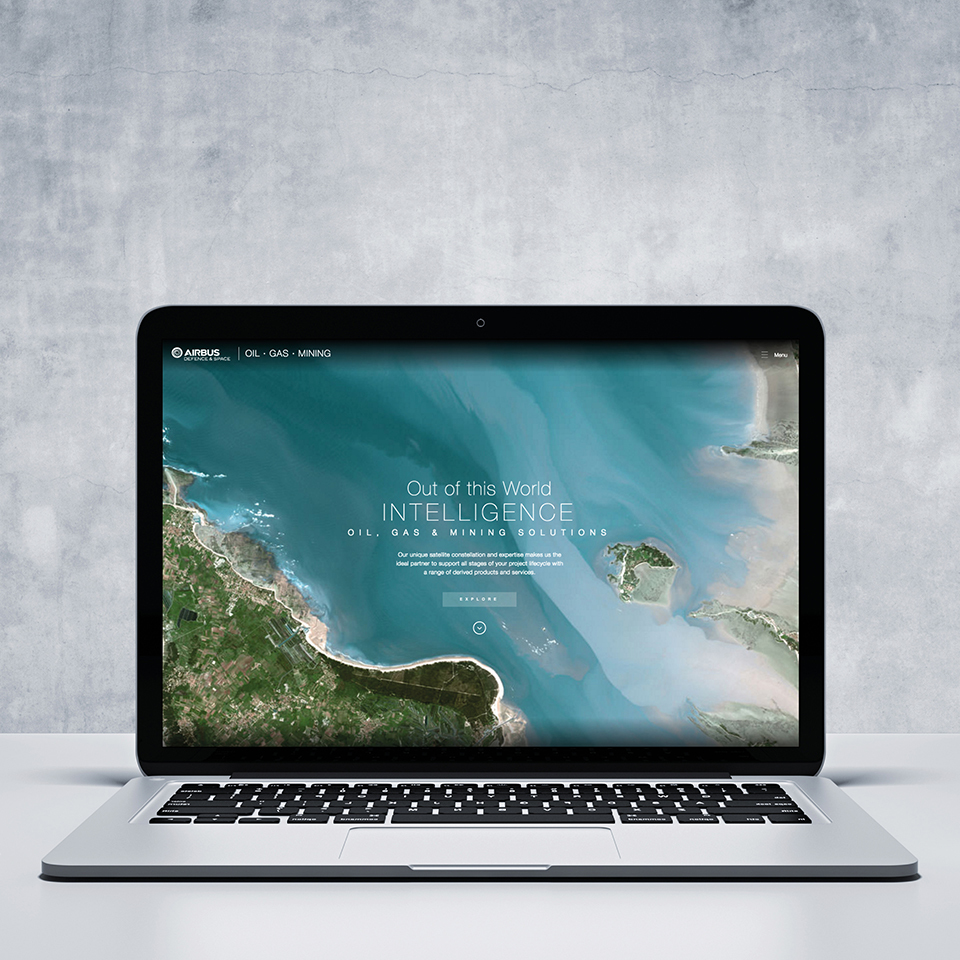 Marketing the Brand
Another cornerstone of the campaign was to provide a broad range of support materials to maximise investment in exhibitions and events. For example, using the Ask Airbus concept, large-scale graphics (derived from Airbus satellites) were used as arresting backdrops to exhibition stands, pinpointing areas on landscapes to show where and how Airbus can offer solutions. And in a video for the UK space event, we spin a compelling narrative that takes us from potential climate change catastrophes right through to the role Airbus Defence and Space plays in averting such disasters. With drama and intensity created by the surveillance footage and other emotional visuals, the video communicates the brand message: operating high above us, Airbus' Geo-Intelligence is a key component in safeguarding our world. The video draws people in by profiting from our reaction to aerial imagery; seduced by the sensation of flying, as well as the urgency created by the countdown clock, we are gripped. This sense of a meticulous operation being conducted before our very eyes creates an immediacy that suggests the freshness of the data being captured and the experience and know-how of the company doing so.

Finally, as websites are the launch pads for nearly all brands, we created a dedicated Airbus Defence and Space website, specifically for the oil, gas and mining product line. With vibrant, dramatic imagery; dynamically rendered clouds flitting across the screen; and the sound of wind currents; we have created a visual and auditory experience that stimulates satellite surveillance, allowing you to hover above the clouds and observe the work of Airbus Geo-Intelligence. Demonstrating the life cycle of a potential project and the part Airbus can play at each stage, we construct a narrative that explains the solutions Airbus offers. In terms of writing, the site is short and concise; imagery excellence being the heart of Airbus DS, the visuals are allowed to steal the show. But there is also video content, product and service pages, a contact form and a map that can be filtered according to location. And all of this is a manageable size, easy to access and beautifully optimised on any device.
And so the new identity of Airbus Defence and Space is sent into orbit.
Taking the universal fascination and exhilaration inspired by space, we have created an experience that produces an instinctual thrill around the organisation. To assert its role as the go-to company for the freshest imagery and accurate satellite data, we have let visuals do the talking, creating a memorable connection between Airbus DS and visual perfection that doesn't need explaining.